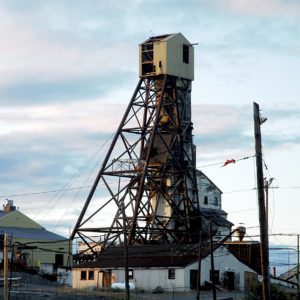 The Giant Mine is an inactive gold mine located within the City of Yellowknife boundary and within the Yellowknives Dene First Nation's traditional territory and North Slave Métis homeland. Prior to Giant Mine's development, the geographically unique area which is now the Giant Mine site served as a key location for sourcing traditional foods. Giant Mine processed ore from 1948 to 1999. During those years of operation, arsenic trioxide dust was released into the air causing potential health risks. In later years of ore processing arsenic was stored in underground chambers to avoid or reduce contamination to the surrounding area. At present, the mine is considered one of the most contaminated sites in Canada and 237,000 tonnes of arsenic remain stored beneath the mine site, requiring perpetual monitoring.
Source: Hoèla Weteèts'eèdeè: Understanding Community Wellbeing Around Giant Mine
---
To learn more about Giant Mine, a detailed historical timeline is provided by Professor John Sandlos and Professor Arn Keeling (Memorial University).
To learn more about how Yellowknives Dene First Nation has been impacted, you can read the Giant Mine Monster, or hear Chief Ernest Betsina on CBC's As It Happens on December 7, 2020.