New study shows 'Low Risk' to public health 70 years after Giant Mine's toxic legacy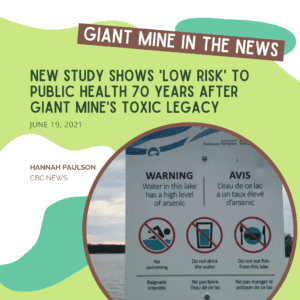 Wondering where to safely fish, swim, pick berries and harvest in the Yellowknife area?
Researchers have been measuring the amount of arsenic in local water bodies in order to provide public advice about water use. This CBC article, published last year, highlights some of the key takeaways from the research.
See link –
https://www.cbc.ca/news/canada/north/study-arsenic-giant-mine-1.6072259

: Giant Mine in the News